The Forex Revolution...
A Six-Year Unbroken Winning Streak!
Volatility Factor
Version 2.0!
Volatility Factor 2.0 Pro is ready for 2022 market conditions!
You get a product that is up-to-date and ready to use.
Order Now

Review Volatility Factor 2.0 Pro
Volatility Factor 2.0 Pro
is currency trading system. It supports multiple currency pairs which increases the chances of profits made by the ea. This forex robot is successful for long and short term trading. Using it with correct settings you are capable of making good profits within short period of time.
Click here to buy it now.
Volatility Factor 2.0 Pro is a grid system. It can open up to 4 trades but only if the first trade is negative. Of course, the robot is easy to use and you can change the opened number trades at any time. This expert advisor shows really good results at short term period, but you can have really good profits in long term as well, it depends, what are your goals in the forex market and based on that you can configure it. The SL/TP are different for each pairs. This is not all, you can always change SL/TP levels of the robot. It is easy and really simple task.
Volatility Factor 2.0 Pro recognizes whether your broker offers four or five-digit quotes. You do not need to change any settings. You do not need to multiply TakeProfit and StopLoss values by 10 if your broker offers five-digit quotes. It is recommended to be used with risk 2% or below, however, if you trade with all the supported currency pairs then the risk should be adjusted based on that. If you have any questions related to EA settings you can always contact Volatility Factor 2.0 Pro support team and we will do our best to explain and help you.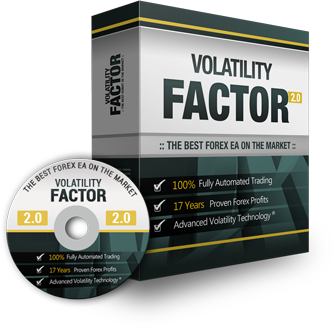 Volatility Factor 2.0 Pro has been proved that it is one of the most successful expert advisor in the forex markt. Even though our team continue improve it and adapt to the current market conditions since forex market is very dynamic and need to be up-to-date every seconds. This expert advisor consists of very strong systems that makes it successful and some of these are profit protection system, advanced time management system, dynamic trading logic, broker spy module, high impact news filter and etc..
Furthermore, as we have already said above, it is currency trading system which supports many currency pairs such as GBPUSD, EURUSD, USDJPY and USDCHF. Even if you want you can use it on unsupported currency pairs and for that reason you have to change some settings in the robot's properties, you can find the details about it in the USER GUIDE of the robot. You can download it in the member area only. Risk management is fundamentally important in attaining optimum forex trading results. It pays to think carefully before deciding what percentage of your account to expose to risk in each individual transaction. We recommend you to use reasonable risk between 1% to 2%, for ex AutoMM=1. AutoMM: Automatic risk management activates at values greater than zero:
Example 1: At AutoMM = 1, Volatility Factor opens positions equal to 0.1 lots - (10,000) given an account extent of 10,000. This places 1% of the account extent at risk per individual transaction at a loss of 100 pips.
Example 2: At AutoMM = 2, Volatility Factor opens positions equal to 0.2 lot - (20,000) given an account extent of 10,000. This places 2% of the account extent at risk per individual transaction at a loss of 100 pips.
Additionally, if you want to check the performance of the forex robot you can have a look at our home page by visiting the official website of Volatility Factor 2.0 Pro. In the home page of our official website you will find many useful information related to the expert advisor's improved trading principles such as spread and price slippage protection, optimal money-management, rapid market impulse trading levels and etc..
Any trader can download and use Volatility Factor 2.0 Pro in Metatrader 4 trading platforms. It is compatible with all the brokers and account types, including ECN brokers. It also supports NFA(FIFO) regulated forex brokers. Last but not least, you can use it with brokers with 4 or 5 digits.
If you want to check the robot's performance you can have a look at the backtests of the robot as well or you can do backtest by yourself. In order to do backtests you have to be a member of Volatility Factor EA, so you can purchase the robot and start using it. Click here to buy it now.
Consistently
17 years of Testing
17 Years of Testing Created One of
The Most Consistently Profitable Strategies
Volatility Factor 2.0 was tested during the worst global financial crisis since the Great Depression.
This period saw wild gyrations in the currency markets and unpredictable "black swan" events that tested the global financial system.
In testing, Volatility Factor 2.0 delivered over 75% win rate in a 17-year period, with a profit factor close to 1.60!
It's consistently turned a profit during that time and continues to generate incredible returns today.
Below, you can see rigorous data going back 17 years – as well as our latest, live money account, updated in real time.
Voltility Factor 2.0 Pro GMT Offset Set Up
We want to mention you about GMT Offset parameter which is part of the robot. GMT Offset is very important to be set correctly when you enable news filter for Volatility Factor 2.0 Pro. In order to get correct time and news, after enabling the news filter, it is must-do task to set up correctly GMT Offset of Volatility Factor 2.0 Pro.
GMT means Greenwich Mean Time, also can be called Coordinated Universal Time, shortly UTC. The differentce in time between local time and GMT(UTC) is called GMT Offset.
GMT offset is really important because of the different location of the broker's servers around the globe. As you know, the brokers may locate in different countries and they have their own GMT times. For example some brokers may have +1 GMT Offset and some of them may have GMT +5. Therefore, it is essential to set correct GMT Offset in the expert advisor's settings. If you miss that, when you activate news filter, the robot may not be able to detect the correct time while trading, when to start/stop trading during the news. Moreover, this will affect their performances negatively.
Our forex robot has parameter which is called DST_Usage. We have developed this parameter to calculate the daylight saving time(DST), which is the practice of advancing clocks during the summer months by one hour so that evening daylight lasts an hour longer. Basically, the regions with summer time adjust clocks forward one hour in the last week of March and adjust them backward in the last week of October to standard time. Most of the cases, expert advisors change their GMT Offset during summer and as a result it is also important to know that and set it correctly in the settings.
For Volatility Factor Pro the time is very important factor when news filter or time management is activated. If you set wrong GMT offset then the results could be unexpected. Please read the instructions below:
AutoGMT_Offset - Change to false only if you want to use the ManualGMT_Offset in your live trading. In this case, please ensure that you have used the correct ManualGMT_Offset for your broker.
ManualGMT_Offset - For this parameter you have to set the winter GMT offset of your broker. This parameter is very important in case that you have disabled the AutoGMT_Offset=false and when you backtest the Volatility Factor EA. If you set wrong value, then you may get unexpected results.
DST_Usage - If your broker shifts the GMT_Offset with +1 hour in the end of March and change it back in the end of October, you should set DST_Usage=true for live trading. This is important for the correct functioning of the second trading system (Signal_2)
Volatility Factor 2.0 Pro Recommendations
The robot supports the following pairs GBPUSD, USDJPY, EURUSD and USDCHF. You are free to trade on the supported pairs at your own discretion.
Recommended settings - We suggest you to use the default settings as they provide most stable performance.
Recommended risk - We recommend using a reasonable risk between 1% to 2%, which means 0.1-0.2 lots per 10.000 account, or 0.01-0.02 lots per 1000 account. As well you can use "AutoMM"=1 to 2%. However, if you want to try how lucky you are, AutoMM between 5% and 10% is risky, but potentially could be very profitable.
Order
SPECIAL OFFER
Volatility Factor 2.0 Pro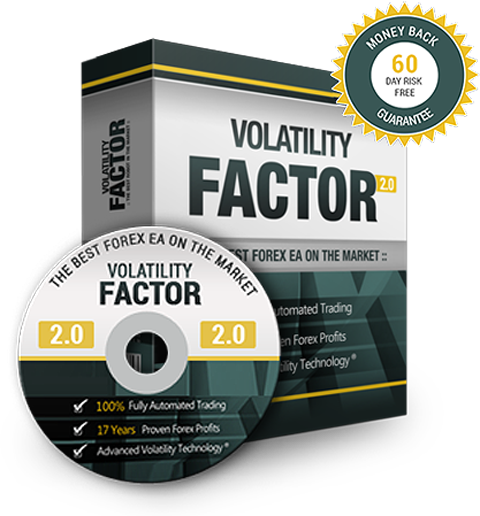 1 Real Account
Unlimited Demo Accounts
Unique BROKER SPY Module
Advanced News Filter
4 Currency Pairs Supported
60-Day Money-Back Guarantee
Order Now


If you have any problems with the payment, please contact us!
Volatility Factor 2.0 Pro is protected by 60-Day, Unconditional Money-Back Guarantee

By purchasing the product, you agree with the Terms and Conditions of use.

If you have any problems during the payment process, please contact us!