The Forex Revolution...
A Six-Year Unbroken Winning Streak!
Volatility Factor
Version 2.0!
Download Volatility Factor 2.0 Pro
Volatility Factor 2.0 Pro
is a unique forex robot with very successfull forex trading strategy. Its strategy is stable for long and short term trading. If you want to use this expert advisor you must purchase it.
Click here to buy it now.
Volatility Factor 2.0 Pro is paid expert advisor and you can test it for 60 days. We offer money back guarantee which is 60 days and this means you can download the robot after the purchase and use it. In order to download Volatility Factor you have to login to the member area. After login to the member area you must navigate to download page and there you will find the files. You can download installer, which you will use to install the whole package, or you can install manually all of the robots. It is your decision.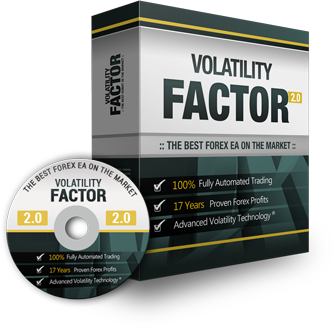 To download one of the most successful expert advisor - Volatility Factor Pro - you have to have access the member area of Volatility Factor Pro. This forex robot is simple and easy to install and use. The installation continues few minutes. You can find details about how to download and install the robot in the User Guide, it is available in the member area. In the User Guide you will find all the necessary information during the installation of the robot. Furthermore, you will read and learn many important points about the robot. All the parameters are explained in details in the User Guide. In case, something is not clear to you, you can always contact the support team by visiting contact us page.
Additionally, if you want to check the performance of the forex robot you can have a look at our home page by visiting the official website of Volatility Factor 2.0 Pro. In the home page of our official website you will find many useful information related to the expert advisor's built-in systems such as 3 intelligent built-in protection system, advanced money management system, BROKER SPY MODULE, advanced volatility technology, advanced high impact news filter and etc.
Any trader can download and use Volatility Factor 2.0 Pro in Metatrader 4 trading platforms. It is compatible with all the brokers and account types, including ECN brokers. It also supports NFA(FIFO) regulated forex brokers. Last but not least, you can use it with brokers with 4 or 5 digits.
If you want to check the robot's performance you can have a look at the backtests of the robot as well or you can do backtest by yourself. In order to do backtests you have to be a member of Volatility Factor EA, so you can purchase the robot and start using it. Click here to buy it now.
Consistently
17 years of Testing
17 Years of Testing Created One of
The Most Consistently Profitable Strategies
Volatility Factor 2.0 was tested during the worst global financial crisis since the Great Depression.
This period saw wild gyrations in the currency markets and unpredictable "black swan" events that tested the global financial system.
In testing, Volatility Factor 2.0 delivered over 75% win rate in a 17-year period, with a profit factor close to 1.60!
It's consistently turned a profit during that time and continues to generate incredible returns today.
Below, you can see rigorous data going back 17 years – as well as our latest, live money account, updated in real time.
Order
SPECIAL OFFER
Volatility Factor 2.0 Pro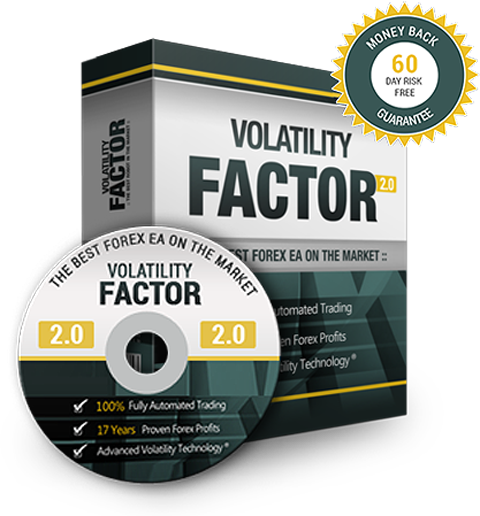 1 Real Account
Unlimited Demo Accounts
Unique BROKER SPY Module
Advanced News Filter
4 Currency Pairs Supported
60-Day Money-Back Guarantee
Order Now


If you have any problems with the payment, please contact us!
Volatility Factor 2.0 Pro is protected by 60-Day, Unconditional Money-Back Guarantee

By purchasing the product, you agree with the Terms and Conditions of use.

If you have any problems during the payment process, please contact us!